A 20W push-pull amplifier, using pentodes for the input stage and sweep tubes for the output stage.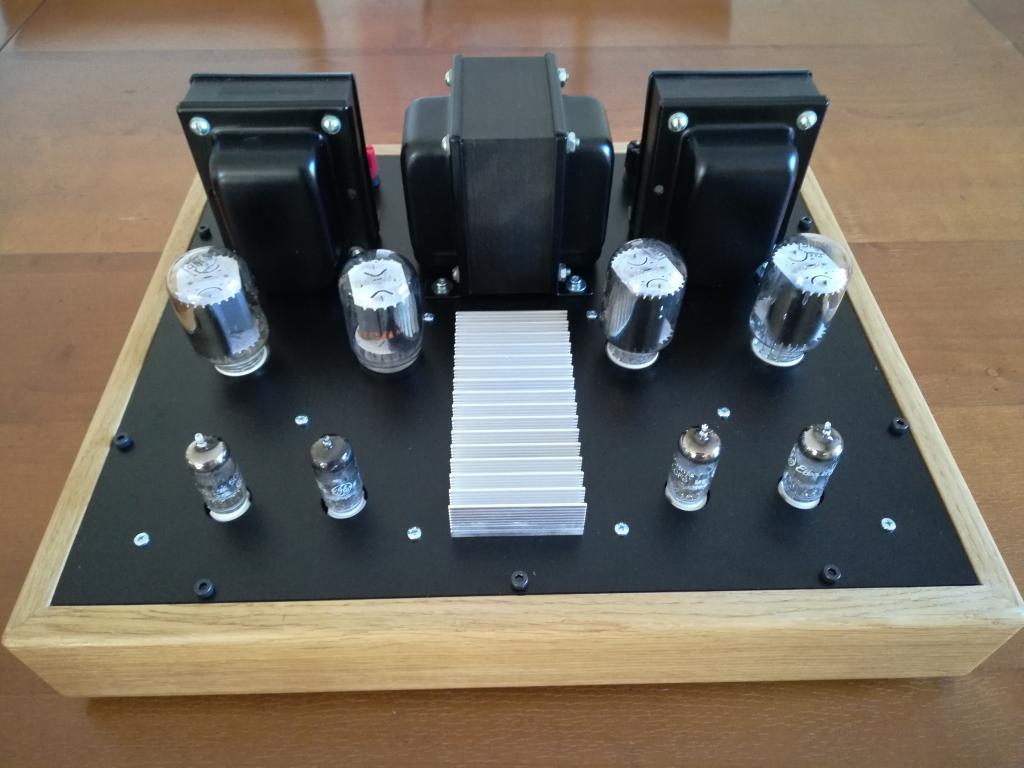 The input stage uses a constant current source, the output tubes are fix-biased, performing well under their rated limit, ensuring long tube life. Sweep tubes have been used in TV sets and are known to be very robust. This amplifier is optimized for the 6CB6 and 6JN6 tubes and does not allow for tube-rolling.

Input sockets are professional Neutrik RCA sockets. Speakers connectors are heavy-duty, professional models. The speaker sockets are robust models accepting 4mm2 cables or 4mm banana plugs.

Deep Lake amplifiers are built using only the best components, over-sized wires and quality capacitors, thick and golden printed circuits. This particular amplifier chassis was built using Edcor-USA transformers, aluminium, oak wood, presented in its natural color, protected by a light varnish.
Characteristics
type : stereo power amplifier
input impedance : 100 kohms
output impedance : 2.8 ohms
output power : 2 x 20 W
recommended speakers : 8 ohms, 90 dB/W/m SPL
connectivity : 1 pair of RCA / cinch for inputs, 1 pair of speaker sockets
volume control : this is a pure power amplifier and hence it has no volume control
Weight : 12 Kg.
Electronic design © Pete Millett.